Kejuruteraan Logam Seberang Sdn. Bhd. – Engineering, Metal, Stainless steel, Wood craftwork, Fabrication, Services and Maintenance
Kejuruteraan Logam Seberang Sdn. Bhd. is a business located in Kawasan Perindustrian Valdor, Sg. Bakap, Penang and is involved in metal, stainless steel, wood craftwork engineering fabrication, services and maintenance of marine cruises vessels, designing and building furnitures, and equipments.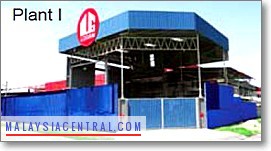 Business registration number
148839–A
Products offered
Letterboxes, stainless steel fabrication work, mobile and folding stage, lectern, etc.
Services offered
Cruises service and maintenance work – accommodation, refrigeration, engine, deck and so on. Dry docking project.
Operation/Opening days and hours
Monday to Saturday: 8.30 am – 6.30 pm
Business/Factory address
1, Lorong Seruling 3, Kawasan Perindustrian Valdor, 14200 Sungai Bakap, Seberang Perai Selatan, Penang, Malaysia
Business phone number
+6(04) 582 9932
+6(04) 582 6932
Business fax number
+6(04) 582 3932
Business/company GPS location address
5.239501,100.476365
Business email address
ask@logam.com.my
mails@logam.com.my
Business website
www.logam.com.my