Klinik Pergigian Krishnan – Dental/Tooth Extraction, Dental Filling (Restorative), Scaling & Polishing of Teeth, Dentures, Minor Dental Surgery
Klinik Pergigian Krishnan (Krishnan Dental Clinic) was established in 1983 and run by Dr. Krishnan B.D.S in Taiping, Perak. Krishnan Dental Clinic is one of the first 5 dental clinics in Taiping. Dr. Krishnan provides services such as Dental/Tooth extraction, Dental filling (Restorative), Scaling and polishing of teeth, Dentures, Minor dental surgery, etc.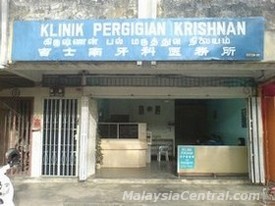 Operating hours:
Monday-Saturday: 9:30am-1:00pm, 3:30pm-6:00pm, 8:00pm-9:30pm
Sunday: 10:00am-1:00pm
Closed on public holidays.
Address:
266, Jalan Kamunting, 34600 Kamunting, Perak, Malaysia.
Phone:
+6(05)8082230 – (Dr. Krishnan)