Diploma in Physiotherapy, MAHSA University College, Kuala Lumpur, Malaysia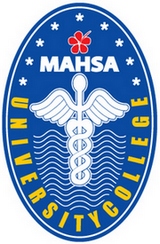 Physiotherapy is a health care profession which provides services to individuals and populations to develop, maintain and restore maximum movement and functional ability throughout their lifespan. This includes providing services in circumstances where movement and function are threatened by aging, injury, disease or environmental factors. Functional movement is central to what it means to be healthy.
Physiotherapy is concerned with identifying and maximizing quality of life and movement potential within the spheres of promotion, prevention, treatment/intervention, habilitation and rehabilitation. This encompasses physical, psychological, emotional, and social well being. Physiotherapy involves the interaction between physiotherapists, patients/clients, other health professionals, families, care givers, and communities in a process where movement potential is assessed and goals are agreed upon, using knowledge and skills unique to physical therapists.
Physiotherapy has many specialties including cardiopulmonary, geriatrics, neurological, orthopedic and pediatrics to name some of the more common areas. Physiotherapists practice in many settings, such as outpatient clinics or offices, inpatient rehabilitation facilities, extended care facilities, private homes, education and research centers, schools, hospices, industrial workplaces or other occupational environments, fitness centers and sports training facilities.
The core skills of the physiotherapists include manual therapy, therapeutic exercises and the application of electrotherapeutic modalities such as heat, cold, electrical stimulation etc.
Like all other health professionals, physiotherapists are required a formal education and training before they are allowed to practice. They work independently and able to exercise their judgment and make decision regarding their patients. They are regulated by a professional body and must adhere to an ethical code of practice.
With the increase in population as well as an increase in the life expectancy of the regular Malaysian coupled with the growth in the number of hospitals built, the demand for physiotherapists is expected to further increase. However, there is still a shortage of physiotherapists to meet this acute demand as some hospitals and non – governmental organizations are forced recruit physiotherapists from other countries like Myanmar, India and the Philippines.
Diploma in Physiotherapy Program Structure
The Diploma in Physiotherapy extends over a period of 3 academic years where it is divided into 6 semesters. The program covers both theory and practical in physiotherapy. Emphasis is given to hands – on techniques covering manual skills, electrotherapy and exercise therapy. Students are equipped with a strong foundation in basic sciences in the first year and in the second year; the application of physiotherapy in cardio-respiratory, musculoskeletal and neurological systems will be included. In the final year, the course covers physiotherapy management of specific clients.
Course Outline:
Year 1
Anatomy and Physiology I & II
Applied Anatomy
Behavioral Science I & II
Kinesiology I & II
Musculoskeletal I
Electrotherapy I
Movement
Introduction to Healthcare I
Elective Placement
Year 2
Musculoskeletal II & III
Cardio-respiratory I & II
Electrotherapy II
Neurology I & II
Introduction to Healthcare II
LAN subjects
Clinical Practice I
Year 3
Neurology III
Pediatric
Women's Health
Sports
Occupational Health
Geriatric
Introduction to Healthcare III
Clinical Practice II & III
Career Opportunities
Physiotherapy offers a range of exciting career opprtunities. The most obvious for the diploma students will include continuing the education to obtain a degree. MAHSA University College offers a excellent degree program 4+0 by Northumbria University conducted entirely in MAHSA University College.
Other opportunities on completion of the diploma and degree program can lead to a career in government and private hospitals especially in the orthopaedic departments; rehabilitation centres for the handicapped, schools for the mentally retarded and physically disabled children, health institutions
and physiotherapy clinics.
MAHSA University College Location Map
MAHSA University College Contact Details
Address:
MAHSA University College,
Level 6, Block A, Pusat Bandar Damansara,
Damansara Heights,
50490 Kuala Lumpur,
Malaysia.
Phone: +6(03)2092 9999
Fax: +6(03)2093 1599
Email: marketing@mahsa.edu.my
Website: http://www.mahsa.edu.my