EMS Language Centre is a professional English language centre in bustling Kuala Lumpur, offering the highest academic standards in learning. We provide English courses to meet different learning goals and aspirations in efficient and enjoyable ways in multi-cultural Malaysia. Our international team of qualified staff provides full support all the way from enrollment to graduation to help you gain confidence and success. We prepare you for university admission globally, as well as help improve your career prospects and general communication skills.
Established in 2011, EMS Language Center was founded on a strong principle of creating excellence in the provision of English language learning and education in Malaysia. Its parent company, Citinetics Sdn. Bhd. which became known as Tetuan Citinetics Sdn. Bhd. in 2011, has been a prominent player in the educational field and a strong proponent of lifelong learning for many years. Since 2003, Citinetics Sdn. Bhd.has been opening up pathways to learning, organizing and managing classes, workshops, seminars, and degree programs for vocational purposes in Kuala Lumpur.
EMS language center was set up in response to the increasing demand for English language training within the region. At the core if its operation is the push to make learning English simple, offering opportunities for everyone to acquire and master the use of the English Language locally and internationally in the most efficient and stimulating way. It aims to inspire success in individuals looking to upgrade their English language skills and meet their academic and real life expectations.
EMS is your key to improving your English language proficiency. If you are keen to speak, write, listen and interact better in English, and/ or gain qualifications that will get you further academically, EMS is the place to help you achieve this in a most effective way. Learning English could not be simpler or more straight-forward! Here, we create practical and simple learning pathways that enable you to acquire and improve your communication skills more efficiently and make progress in good time. Using standard course books, high-tech solutions and regular interactive activities in and outside the classroom, our instructors guide and motivate you to make the most of your learning experience in Kuala Lumpur.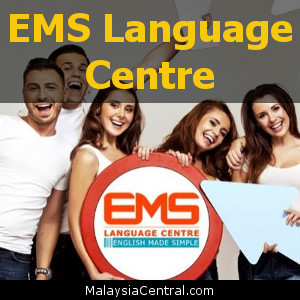 At EMS, there is a healthy mix of formal and informal learning, while tests are conducted regularly to ensure you are on the right track and to help you aspire to move on to the next level. Additionally, we encourage real-life learning, engaging students in outdoor activities as part of their lessons. EMS is strategically positioned for this purpose, being located in the centre of KL, where a number of cultural and leisure attractions are within walking distance. So you can have fun while you study English, and enjoy your new experiences in Malaysia at the same time! Learning English away from the classrooms is very popular among students, who often request for more, in addition to the extra-curricular activities we offer!
Upon completion of your studies at EMS, you will have a better chance of gaining entry into any College and University, locally or abroad. Our professional and impartial staff will ensure that EMS students can gain entry into either Foundation level (upon completion of Level 8) or BSC, MSC level (upon completion of Level 10). EMS has been acknowledged and accredited as a prestigious learning centre by highly reputable private universities in Malaysia, Canada, Australia and Europe.
Further Information regarding the application and admission services into universities can be found by either going to our University Consulting webpage or by clicking on this link: University Consultancy Service.
Why Choose EMS Language Centre?
TESOL / TEFL certified
Our instructors are TESOL/TEFL certified and are experienced in teaching English as a second/ foreign language.
They are passionate about teaching and dedicated to creating a stimulating and creative learning environment to ensure students receive the best learning experience which produces great results.
Effective Teaching
Internationally-recognized teaching materials for an effective learning experience. Learning through a varied and comprehensive learning process, involving student-centred activities such as crossword puzzles, role-play, conversational exercises, skimming and scanning games, helping them to improve all aspects of communications skills and develop critical thinking and analytical skills using the English language.
Effective Learning
Learning according to their level of proficiency.
Small classes where students will have full attention of the instructors. Extra guidance where they can discuss with the tutor the problems they encounter and find the solutions together.
IELTS Preparation
Prepare students to meet the English proficiency required at tertiary education worldwide. At Level 10 of our course, the proficiency of students will be equivalent to IELTS 5.5 or TOEFL 511-529.
EMS Language Centre Courses
Intensive General English (IGE)
The EMS Intensive General English course is your important first step to learning English. This comprehensive and popular course will benefit you if have had very little or irregular formal English learning in your country and want to gain more language skills. The IGE course is designed to build your confidence.
What better way to learn English than by going through intensive activities and getting full attention on a daily basis. Because we understand that at this level you need plenty of support and practice in order to progress fast, we have made our IGE classes small so that there will be lots of opportunities for every student to practice speaking, writing, reading and listening in and outside the class during educational trips.
Extra Learning Activities (ELA)
Do you want lots of variety in the way you learn English? Do you want to have fun in class? At EMS we know how important it is to give you plenty of options so that you may select the kind of English-learning experiences which would give you the most enjoyment and reward. EMS understands that every student is different and believe it is important to provide diversity in learning. So, we have created ELA, an interactive and stimulating program which you can take jointly or separately with the IGE course.
ELA offers a range of exciting ways to learn English in Malaysia and is highly popular because it enables students to be as active and as creative as they want to be in the classroom. You can also be flexible at ELA. Students who enroll for this program will learn at their own pace and convenience, as it is an ongoing, all-interactive and, most of all, a truly enjoyable class, where the atmosphere is guaranteed to be both relaxing and stimulating. Our highly experienced multi-cultural instructors bring in their own creative styles to the teaching, making sure that each ELA session is as lively as the last one!
Anyone can join ELA – whether you are a new or an existing student, you will find something that will inspire you to learn more every time – and that's a promise!
IELTS Preparation
The International English Language Testing System (IELTS) an examination developed by Cambridge University is used worldwide by universities and colleges to assess the student's suitability for academic undergraduate and postgraduate courses.
Intensive Business English (IBE)
English in the workplace is highly important and at EMS our tutors will assist you to gain advantage over others by teaching you the most crucial components of workplace English.
You are provided with a multi-cultural and professional environment to create a real-life business setting.
You are given hi-tech teaching aids to enhance the Business English learning experience.
You are provided with specialized supplementary materials to give you a cutting edge in the business language front.
EMS Summer Camp
Every year, especially during the summer season, Malaysia, a country located in the South East Asia welcomes many tourists and students from many diverse parts of the world. Being a multi-cultural and English speaking country, has made Malaysia a great destination for students to improve their English.
EMS Language Centre has been in the educational industry for more than a decade. A team of professional experts, experienced and native, qualified and certified teachers have gathered from different nationalities to create a wonderful and unforgettable environment for students with variety of cultures and backgrounds.
Every year, during the summer season, EMS Language Centre warmly welcomes students from different parts of the world such as Russia, Kazakhstan, Japan, Korea, Iran, Saudi Arabia, and etc. Multi-cultural text materials, along with multi-national students and teachers, enable students to learn and enjoy a high quality education to best suit their future language needs and career opportunities.
Access Program
The US Embassy has collaborated with language centers in 85 countries to provide The English Access Micro scholarship Program (Access).
2014 was an unforgettable year for us. It was the year EMS was given the privilege of reaching out to a group of young Malaysian school learners to deliver intensive English lessons for them outside school hours. This was made possible by the US Embassy in Malaysia under its highly acclaimed English Access Micro scholarship Program (Access).
Funded by the US State Department Bureau of Educational and Cultural Affairs, the program was established in 2004 to provide after-school English language training to talented non-elite students aged between 13 and 20. Access provides opportunities for school learners around the world to gain a foundation of English skills, aimed at opening doors for them to improve their academic and career prospects in the future.
EMS was the first language centre in Kuala Lumpur chosen to collaborate with the US Embassy to deliver the 2014-2015 Access program to a group of learners from economically disadvantaged communities in the city. As a result, over thirty selected students from the SMK Taman Kosas school in Ampang in the outskirts of Kuala Lumpur, attended our after-school classes and intensive sessions held at the EMS language Centre.
We found the engagement with young learners most rewarding. They were enthusiastic from the word go and participated fully in our custom-made classes which were designed to meet their specific learning needs and goals. All four communication skills were covered and the highly interactive lessons encouraged students to adopt a more active role in their learning. In meeting one of the goals of Access, we included activities which helped raise awareness of the American culture and values.
By the time the progam ended in 2015, the students were brimming with confidence. There was no doubt that they valued their participation in Access at EMS. Overall, they agreed that that they had thoroughly enjoyed their lessons and indicated that the English learning experience at EMS had equipped them with a fresh set of communication skills which stimulated their interest in the English language further!
Apply to EMS Language Centre
You can apply to study at EMS using any of these three simple ways:
STEP 1: Go to www.ems.edu.my and click on "Apply Now".
STEP 2: Fill in the online application form step by step and submit your application.
STEP 3: We will contact you after the application has being verified and proceed with the application process.
EMS Language Centre Contact Details
Address: B-7-2 and B-7-3(Unit 1-5) Megan Avenue 2, Block B, Jalan Yap Kwan Seng, Kuala Lumpur.
Telephone: +603 2181 1219
QQ Number: 2096030001
Email: marketing@ems.edu.my
Website: http://ems.edu.my