Equator College (Formerly known as Academy of Art) was founded in 1987 and is now a recognized brand name as the leading art, media, and design college in northern Malaysia. This is mainly due to the recruitment of quality staff, the establishment of a conducive learning environment, and the supportive administration. Our academy has two campuses: one in Leith Street and the other in Amoy Lane. Both campuses are situated in the heart of George Town, Penang.
The college offers qualified students well-structured programmes of study with up-to-date curricular as well as comprehensive training to fulfill the demands of the art, media, and design industries. Classes are kept small (ratio 1:20) to ensure that lecturers are able to focus on the individual style of their students in order to encourage the best possible performance.
Our team of academic staff, both local and foreign, are well-trained, with many having professional experience in their respective fields. Using a student-centred approach to teaching, our lecturers do not only inspire the spirit of excellence in their students, they also lead by example by going public in exhibiting their own work.
On top of a conducive learning environment, the management of Equator provides the right infrastructures such as high-end computers and industry-standard software as well as numerous books, journals, and magazines to keep students up-to-date with the demands of modern industries. The management is also supportive and open to suggestions towards improvement.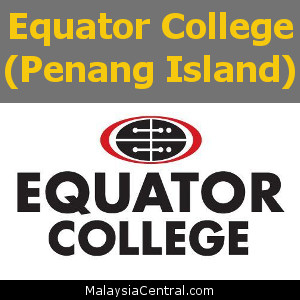 At Equator, we believe there should be a balance between work and play. As such, there is a good variety of student clubs and societies are in store for our students. A wide range of exciting indoor activities as well as plenty of opportunities to embark on educational trips await the inquisitive and adventurous souls. These activities enable students to discover new interests, make observations, work in groups and relate to one another, but most importantly, they allow our students to have fun.
All our programmes are approved by the Ministry of Higher Education (MOHE) via the Malaysian Qualifications Agency (MQA).
Programmes at Equator College
School of Art, Media & Design Technology
Diploma in Graphic & Multimedia Design
Diploma in Digital 3D Animation
Diploma in Fine Art
Certificate in Art & Design
School of Fashion
Diploma in Fashion Design Technology
School of Engineering & Built Environment
Diploma in Interior Design
Diploma in Architectural Technology
Diploma in Computer Aided Design & Drafting (Building Design)
School of Creative Business
Diploma in Marketing Communication
School of Professional Development
Autodesk AutoCad 2017 (Level 1)
Autodesk AutoCad 3D 2017 (Level 2)
Autodesk 3DS Max 2017
Autodesk Revit 2017
Autodesk Maya 2017
Autodesk Certification Center
InteriCad T6
Short Courses
Interior Decoration & Residential Interior
Computer Graphic Design
Fashion Design & Garment Construction
Drawing Class
Painting Class
Financial Aid & Scholarship at Equator College
The purpose of the Equator Art & Design Scholarship / Financial Aid / Loan are available to students for their studies here at Equator. Applicants should generally possess good academic results, active in co-curricular activities and art enthusiastic. Most applications would be processed by the College Scholarship Board. The Scholarship Board reserves the right to approve or reject / withdraw ANY application, as and when deemed necessary.
The Registry and Finance Department will provide assistance in applying for PTPTN Loans, EPF Withdrawal Scheme for Education, SOCSO Education Loan, and OKU Financial Aid.
Equator-Star Education Fund
UEC Elite Award
PTPTN Loan (Perbadanan Tabung Pendidikan Tinggi Nasional)
EPF Loan (Employees Provident Fund)
Bantuan Kewangan OKU (Orang Kelainan Upaya)
Penang State Government Education Loan
International Students at Equator College
We are happy to see that you're considering spending time with us here at Equator College. We have students from the UK, Japan, China, Indonesia, Thailand, Myanmar, Maldives that attend Equator College for our programmes and rich diverse cultural experience. Each year we admit students from nearly 7 countries. Equator truly an international institution located in the heart of Georgetown UNESCO Heritage Site, which is one of the world's most popular tourist destination and be part of our diverse community will open up a world of arts and professional possibilities for you.
Equator College Contact Details
Equator College (Leith Street Campus)
7 Leith Street, George Town,
10200 Penang, Malaysia
GPS location: 5.4212551N 100.335533E
Phone: +(6)04 261 5116, +(6)04 261 2318, +(6)04 261 3252
WhatsApp: +016 488 0415
Fax: +(6)04 264 4766
Email: info@equator.edu.my
Business Hours
Monday – Friday: 9:00am – 6:00pm
Saturday: 9:00am – 5:00pm
Sunday & Public Holidays: Closed
Website: http://www.equator-academy.edu.my