Kidurong International School in Bintulu, Sarawak, Malaysia
Kidurong International School is a learning-focused school, one in which children's learning is at the heart of everything the school does. As a learning-focused school, the schools aim is to encourage and enhance children's learning, and to enable children to become better learners. This is not limited to learning in linguistic and mathematical areas, but also includes areas such as artistic, musical, physical and general academic development.
Kidurong International School also value learning in personal and social areas, and the school promote the development of international understanding.
Kidurong International School Curriculum
Kidurong International School work with two different curricula: the English National Curriculum for English and Mathematics; the International Primary Curriculum (IPC) for all other curriculum areas.
English
The National Curriculum identifies three distinct areas in the learning of English:
Speaking & Listening
The first area listed in the National Curriculum requirements for English. Children will develop their Speaking and Listening skills through activities such as role-play, discussions, explanations, conversations and listening to stories, poems, rhymes and instructions.
Reading
Children will begin learning to read when their teacher feels they are ready. In practice, this is likely to be in P1 or P2. Each child will have a reading diary, and you are encouraged to share a book with your child on a regular basis. This should be a pleasure for you both!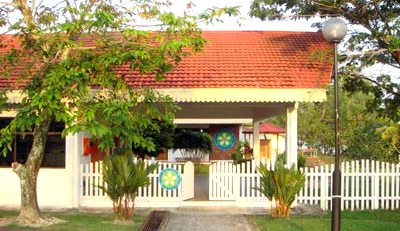 It is worth bearing in mind that as a child becomes older, reading is increasingly assessed in terms of their understanding of what they read rather than their ability to read aloud.
Writing
Children will learn to write with increasing accuracy in terms of spelling, grammar and punctuation as well as learning to structure longer pieces of writing and developing a fluid, consistent and legible style of handwriting. The school also hope they will write for pleasure, enjoying the creative process.
Mathematics
The National Curriculum identifies four distinct areas in the learning of maths:
Using and Applying Mathematics
This will involve the children in 'real life' situations, including role-play.
Number and Algebra
This is where children will learn to become increasingly adept at number manipulation, arithmetic and beginning to spot patterns and sequences.
Shape, Space and Measures
Children will learn about different shapes and their properties, and how to measure a number of things (e.g. length, time, temperature, weight, area, volume, capacity, angles) with increasing accuracy.
Handling Data
Children will learn to gather, display and interpret data in a variety of ways.
IPC
The International Primary Curriculum is a new skills-based primary curriculum specifically designed to meet the needs of children in our increasingly globalised world.
This learning-focused curriculum splits its Learning Goals into three categories:
Subject Goals: Those areas traditionally associated with school-based learning (eg. History, Geography, Art, Music, Science etc)
Personal Goals: These focus more on personal qualities such as 'adaptability', 'resilience' and 'co-operativeness'.
International Goals: The IPC is the first primary curriculum to have specific learning goals to bring about an internationally-minded outlook.
The IPC is organised into groupings called 'Mileposts". Each Milepost has a range of topics for teachers to choose from in order that the children can learn the appropriate goals. Modern research into learning is used to create a vibrant, exciting curriculum.
PE & Swimming
Physical Education is a part of the IPC and, as such, can take place on any day according to the topic being studied. However, the school do routinely have PE lessons on a Monday afternoon for children in Milepost One-Milepost Three.
Art & Music
These subjects, like PE, are a part of the IPC so can take place on any day.
Assessment
Teachers assess children on a daily basis by watching what they do, listening to what they say and looking at their work.
Kidurong International School also carry out more formal assessments at certain times.
Kidurong International School Facilities
Playground
Computer room
Library
AV Room
Play room
Kidurong International School Contact Details
Kidurong International School
Mile 4, Tanjong Kidurong Road,
P.O. Box 1084,
97008 Bintulu,
Sarawak, Malaysia.
Tel: +6(086)251 491
Fax: +6(086)252 441