R.E.A.L School Cahaya Campus, Shah Alam, Selangor, Malaysia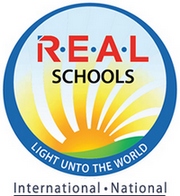 R.E.A.L School @ Cahaya is part of the R.E.A.L. Education Group, the largest integrated educational service provider in Malaysia. We wholly subscribe to the righteous concept of lifelong learning, where an individual's learning capacity never truly ceases. This is precisely why we offer our clients a unique, one-stop solution to an entire lifetime of education – from our nurturing R.E.A.L Tots programme for infants and toddlers, R.E.A.L Kids for pre-school children aged between four to six, award-winning R.E.A.L School @ Suria & R.E.A.L School @ Cahaya, ALFA College, and even 'Lifelong Learning' modular programmes for those seeking to acquire new living skills or to enhance existing ones.
Established in 1998, we have therefore amassed 12 years worth of experience in quality educational services and also recorded outstanding achievements along the way.
We are firm believers in providing holistic education – one that is not merely confined to the academic field but towards extra-curricular endeavours as well. What we truly value is the all-round achiever… smart and active, well-balanced individuals with sound character.
R.E.A.L School @ Cahaya is no stranger to award-winning feats. We have been honored with the NAPEI Award for Education Excellence 2008 (Private School Category) in recognition of our proven expertise and unwavering commitment in setting new standards in private education services.
Located in Shah Alam (near the Monterez Golf Club), our school presents a warm and conducive environment where your child will feel right at home.
R.E.A.L is an acronym for Result Enhancing through Active Learning. The mission of the school is to transform both teachers and students alike, to eventually become active learners. This is a vital facet in self-improvement which is fundamental in maximizing one's talents, developing skills and ultimately achieving an individual's true potential.
This is why our schools are distinct in the sense that we consciously create a conducive 'learning environment' rather than a 'teaching' one. Thus, our students become the main benefactors… just as it should be.
We feel that 'how' our students learn is far more important than 'what' they learn. Therefore, we have perfected 'R.E.A.L Education' as the single tool that can bestow your child with the necessary learning skills and know-how to lead successful and fulfilling lives. As the saying goes, "Give a man a fish and you feed him for a day; but teach him how to fish and you feed him for a lifetime." This very apt adage certainly applies to our R.E.A.L Education philosophy.
"REAL Education is a proven system that guarantees self-transformation. It creates an active learning ethos, nurturing individuals imbued with character, communicative and leadership qualities."
Our school also has a comprehensive ECA or extra-curricular activities programme. Be it in the field of sports, music, uniform bodies, or even debating and public speaking, our students can immerse themselves in a myriad of fun, wholesome activities that will go a long way in sharpening the mind and rejuvenating the body.
R.E.A.L School Cahaya Campus Facilities
The ready facilities that are currently available at R.E.A.L School @ Cahaya include ICT and science labs, a well-stocked library, an AV (or audio-visual) room, an auditorium hall, basketball and volleyball courts, and a half Olympic-sized swimming pool. We are constantly reviewing and looking to expand, or upgrade our range of facilities in order to provide students with what they need to excel in their curriculum as well as extra-curricular activities.
R.E.A.L International School Cahaya Campus – International Curriculum
REAL International School (RIS) consists of Early Years, Primary Department and Secondary Department. Accordingly, classes range from Nursery through to Year 11.
The academic year begins in September and ends in August. There are three terms in each year. Each term ends in a holiday period that normally occur at the following times:
Term 1 September – December 4 weeks holidays
Term 2 January – April 2 weeks holidays
Term 3 April – July 6 weeks holidays
Early Years
A special feature of RIS is its policy to maintain low pupil to teacher ratios in each classroom, so that student's individual needs can be planned for and be met by the teacher.
Nursery Class 3 – 4 years old
Reception Class 4 – 5+ years old
Early Years is open to all expatriate and Malaysian students up to six years of age. At six years old, some Malaysian students may decide to move into the local school system.
Year 1-6
The Cambridge International Primary Programme offers schools all over the world the framework to develop Mathematics, English and Science proficiency and knowledge in young children. It provides guidance for curriculum development and classroom teaching and learning, and it permits teachers to access the children's learning as they progress.
The Cambridge International Primary Programme is also an excellent preparation for the next phase in a student's education. It supports identification of a student's strengths and weaknesses and can be used to support learning and development. The Cambridge International Primary Programme also progresses students seamlessly into middle years curricula, such as Cambridge Checkpoint and IGCSE.
The Primary Programme is appropriate and relevant internationally and can blend with other curricula. It has been designed to be culturally sensitive and includes top quality teaching and assessment resources involving appropriate contexts for teaching and learning in local and international schools.
Year 7-9
Cambridge Checkpoint, an innovative new diagnostic testing service is intended to help students learn. An exclusive service and a helpful tool for schools, it facilitates access to standardised tests that give feedback on a student's strengths and weaknesses in key curriculum areas. Feedback of this kind is a very useful source of information as it allows schools to make strategic decisions, drawing upon a pool of information and specialist reporting tools built into Cambridge Checkpoint.
Students at International Schools will have a transferrable suggestion of their academic development. It is ideal for use at the end of the Cambridge Lower Secondary Programme.
Cambridge Checkpoint is available in English, Mathematics, and Science and it is offered at two sessions during the year. The service is intended at students of approximately 14 years of age studying mid-secondary curricula. The tests cover all major areas of learning required in the first years of an international secondary education. It is these topics/skills and sub-topics/skills that provide the framework for feedback on each student.
Year 10-11
IGCSE is a suite of qualifications that provides a broad curriculum suitable for schools around the world. The IGCSE programme is designed to encourage high academic standards through a practical approach to teaching and learning. The aims of IGCSE are:
1. To deliver a modern curriculum
2. To promote international understanding
3. To encourage good teaching practice
4. To provide rewarding experiences for students
5. To set widely recognised standards
R.E.A.L International School Cahaya Campus – National Curriculum
Core National Curriculum
Bahasa Malaysia
English Language
Mandarin (compulsory)
Mathematics
Science
Agama/Moral Studies
Arts
Music
Lego Education
Swimming
Enhanced National Curriculum
English Language (Singapore syllabus)
Mathematics (Singapore syllabus)
Science (Singapore syllabus)
English Literature
Location Map of R.E.A.L International School Cahaya Campus
Contact Details of R.E.A.L International School Cahaya Campus
R.E.A.L School @ Cahaya Campus, Shah Alam
Lot No.5, Jalan Merah Saga U9/5,
40250 Shah Alam,
Selangor, Malaysia.
International School
Tel: +603 7842 3228
Fax: +603 7842 3199
Email: international@real.edu.my
Private school
Tel: +603 7846 3985, +603 7846 4016
Fax: +603 7846 3980
Email: sscinfo@real.edu.my
Admission Enquiries (International & National)
Admissions Manager
Cerisa Choong
Tel: +603 7846 3985 / +6 012 281 2663
Email: cerisachoong@real.edu.my