SEGi College in Subang Jaya, Selangor, Malaysia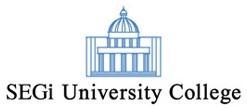 The development of a new 12-storey Subang Jaya campus was embarked in 2005. Opening its doors in January 2006, the new campus was the first official campus constructed by the Group and comprised of modern classrooms and laboratories equipped with the latest technologies; including nursing skills laboratories, desktop and Macintosh computers, a design showcase and galleria, photography darkrooms, wireless access hotspots, a student lounge, a games room and a performing arts theatre, among others.
The campus is located within the 'college belt' of Subang Jaya and has a capacity to accommodate 6,500 students. The college is conveniently accessible by public transport and major highways and is right next to The Summit Shopping Complex. Students studying at SEGi College Subang Jaya also benefit from free access to sports facilities through the "SEGi-3K Sports Partnership". This enables students to use the gymnasium, swimming pool, football field, badminton courts, squash courts and other sporting facilities at the 3K Sports Complex located across the road from the campus building.
SEGi College Subang Jaya offers programmes from foundation and diploma up to masters level in the areas of Business and Accountancy, Information Technology, Engineering and The Built Environment, Nursing and Hotel and Tourism. SEGi College Subang Jaya is also the leading centre for the Creative Art and Design programmes, the Early Childhood Education programmes and the increasingly popular American Degree Program.
SEGi College Subang Jaya continues to provide recognized programmes using innovative teaching and research methods, thus producing world class graduates with the skills and knowledge that are sought after by the market place.
Academic Programmes at SEGi College Subang Jaya
This is a compilation of all the available courses from all SEGi Campus and Training Centres.
Medicine
Bachelor of Medicine, Bachelor of Surgery (M.B.B.S.)
Pharmacy & Allied Health Sciences
Master of Pharmacy (MPharm)
Diploma in Medical Laboratory Technology
Diploma in Environmental Health
Foundation in Science
Optometry & Vision Sciences
Bachelor of Optometry (Hons)
Nursing
BSc (Hons) Professional Practice in Nursing (Post Registration)
Diploma in Nursing
Dentistry
Foundation in Science
Certificate for Dental Surgery Assistants
Business & Accountancy
Bachelor of Business Management (Hons) in General Management
Bachelor of Business Management (Hons) in Financial Management
Bachelor of Business Management (Hons) in Supply Chain Management
Bachelor of Business Management (Hons) in Marketing Management
Bachelor of Business Management (Hons) in Human Resource Management
Bachelor of Accounting (Hons)
BA (Hons) Business & Management
BA (Hons) Business and Marketing Management
BA (Hons) Business and Human Resource Management
BA (Hons) Business Administration
BA (Hons) Marketing & Business
BA (Hons) Accounting & Finance
BA (Hons) Accounting & Finance
BA (Hons) Business Management
BA (Hons) Human Resource Management
BA (Hons) Marketing
BA (Hons) Accounting & Finance
BA (Hons) Accounting and Financial Management
Diploma in Business Administration
Diploma in Marketing
Diploma in Accounting
Diploma in Human Resource Management
Foundation in Commerce
Certificate in Business
Certificate in Business Studies
Executive Diploma in Business Administration
Executive Diploma in Marketing
Executive Diploma in Human Capital Management
Executive Diploma in Accountancy
Engineering
Bachelor of Engineering (Hons) Mechanical Engineering
MEng (Hons) Chemical Engineering
MEng (Hons) Electronic & Electrical Engineering
MEng (Hons) Mechanical Engineering
BEng (Hons) Electronics & Electrical Engineering
BEng (Hons) Mechanical Engineering
Diploma in Chemical Engineering
Diploma in Mechanical Engineering
Diploma in Electrical & Electronic Engineering
Built Environment
Master of Environmental Management Technology
Bachelor of Environmental Technology (Hons)
Bachelor of Science (Hons) Construction Management
BEng (Hons) Civil Engineering
Diploma in Civil Engineering
Diploma in Construction Management
Computing & Technology
Master of Information Technology (MIT)
Bachelor of Information Technology
MSc Information Systems Management
BSc (Hons) Computing
BSc (Hons) Computing with Multimedia
BSc (Hons) Applied Business Computing
Diploma in Computer Studies
Diploma in Information Technology
Foundation in Science
Foundation in Information Technology
Certificate in Information Technology
Executive Diploma in Information Technology
Creative Arts & Design
Diploma in Advertising Design
Diploma in Creative Multimedia
Diploma in Graphic Design
Diploma in Interior Design
Diploma in Music
Diploma in Photography
Diploma in Video & Animation
Executive Diploma in Graphic Design
Communication Studies
Bachelor of Communication Studies (Hons)
Diploma in Communication Studies
Executive Diploma in Mass Communication
Pre-University
Foundation in Science
Foundation in Commerce
Foundation in Information Technology
A-Level
American Degree Program
Education & Social Sciences
Master of Education (MEd)
Bachelor in Early Childhood
Diploma in Psychology
Diploma in Early Childhood Education
International Diploma in Montessori Pedagogy (MCI, UK)
Short Courses:
Basic Childcare Course (Awarded by Department of Social Welfare, Malaysia)
Creative Arts for Young Children
Child Psychology & Development
Music & Movement for Young Children
Nursery & Pre-School Management
Special Educational Needs
Hospitality & Tourism
Bachelor of Hospitality (Hons)
BSc (Hons) International Tourism and Hospitality Management
Diploma in Culinary Arts
Diploma In Hotel Management
Diploma In Tourism Management
Certificate in Culinary Art
Law
Postgraduate Studies
Doctor of Business Administration
Master of Business Administration (Global Business)
Master of Business Administration (General Management)
Master of Information Technology (MIT)
Master of Business Administration (UOS MBA)
Master of Business Administration (USQ MBA)
Master of Education (MEd)
MSc Information Systems Management
Master of International Business
Professional Studies
EC-Council Certified Ethical Hacker (CEH)
EC-Council Computer Hacking Forensic Investigator (CHFI)
Autodesk AutoCAD
Autodesk Inventor
Association of Business Executives (ABE)
English Language
Intensive English Programme
Vocational Programmes
Chambermaid:
Chambermaid – PI, PG
Senior Chambermaid – PI, PG
Housekeeping Supervisor – PG
Food & Beverage:
Food & Beverage (Waiter) – SK, PI, PG
Food & Beverage (Captain) – SK, PI, PG
Food & Beverage (Supervisor) – SK, PI, PG
Pastry:
Commis Pastry – SK, PI, PG
Pastry Cook – SK, PI, PG
Chef De Partie – Pastry – SK, PG
Culinary Arts:
Commis – SK, PI, PG
Demi DChef – SK, PI, PG
Chef De Partie – SK, PI, PG
Ticketing:
Reservation and Ticketing (Clerk) – PI, PG
Reservation and Ticketing (Coordinator) – PI, PG
Public Area Attendant:
Public Area Attendant – PI
Senior Public Attendant – PI
Bakery:
Baker (Junior) – PI, PG
Baker – PI, PG
Baker (Chief) – PI, PG
Refrigeration:
Refrigeration and Air-Conditioning Mechanic – Domestic – PI
Refrigeration and Air-Conditioning Mechanic – Domestic – PI
Electrician:
Junior Electrical Technician – PI, KL
Electrical Technician – PI, KL
Senior Electrical Technician – PI, KL
Printing:
DTP Artist – SK, SWK
Graphic Designer – SK, SWK
Graphic Designing Executive – SK
Automotive:
Automotive Technician – SK, PI, KL, SWK
Motor Vehicle Technician – SK, PI, KL, SWK
Motor Vehicle Senior Technician – SK, KL
Architectural Civil:
Civil & Structural Engineering Draughtsman – SK
Civil & Structural Engineering Draughtsman – SK
Senior Civil & Structural Engineering Draughtsman – SK
Beauty Therapy:
Beautician – PI, KL
Aesthetician – PI, KL
Aesthetic Therapist – KL
Hairdressing:
Junior Hairdresser – PI, KL
Hairdresser – PI, KL
Senior Hairdresser – KL
Dressmaking:
Dressmaker – PI, KL
Senior Dressmaker – PI, KL
Dressmaker Supervisor – KL
Front Office:
Front Office Assistant – SK, PI, PG, SWK
Front Office Supervisor – SK, PI, PG, SWK
Computer System:
Computer System Assistant Technician – SK
Computer System Technician – SK
Computer System Assistant Executive – SK
Multimedia:
Multimedia Artist – Visual – SK, PI
Multimedia Designer – Animation & Visual – SK, PI
Multimedia Creative Manager – SK
Tourist Guide:
LEGEND
SK – SEGi Training Centre Seri Kembangan
PI – SEGi Training Centre Pulau Indah
KL – SCKL Training Center
PG – SEGi Training Centre Penang
SWK – SEGi Training Centre Sarawak
Location Map of SEGi College Subang Jaya
Contact Details of SEGi College Subang Jaya
SEGi College
Persiaran Kewajipan USJ 1,
47600 UEP Subang Jaya,
Selangor D.E,
Malaysia,
Toll Free: 1-800-88-8622
Programme Enquiry: 03-8600 1888
Student Service: 03-8605 3888
Fax: 03-8600 1999
Email: infosj@segi.edu.my