Sunway College in Bandar Sunway, Petaling Jaya, Selangor, Malaysia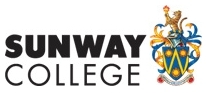 Our story began in 1987, when Sunway College was established by its Founder, Tan Sri Dato' Seri Dr Jeffrey Cheah, AO. Within a short span of time, Sunway became a popular household name as a private higher education institution in Malaysia. Being one of the pioneers of the twinning and credit transfer programmes, Sunway offered many Malaysian and international students the opportunity of obtaining well recognised qualifications of foreign universities from the UK, Australia and the USA through studying at Sunway in Malaysia. As a result of its quality provision and track record of good academic results, Sunway College was upgraded to Sunway University College in 2004.
Sunway College continues through the 21st century with its flag-ship offerings of internationally recognised pre-university and professional accounting programmes as well as undergraduate twinning degree and MBA programmes with a well recognised Australian university.
Sunway College Academic Programmes
Sunway College Pre-university Studies
At the pre-university studies level, Sunway College offers grade 12 or matriculation studies options from the UK, Australia and Canada. The range of pre-university programmes has been carefully designed to suit the different learning preferences of students, and to prepare them to enter their universities of choice. These pre-university programmes include:
AUSMAT (Australian Matriculation Programme)
Cambridge GCE Advance Level (A-Level)
CIMP (Canadian International Matriculation Programme)
MUFY (Monash University Foundation Year)
Sunway FIA (Sunway Foundation In Arts Programme)
Victoria University Bachelor of Business
Victoria University MBA
Professional Accounting Programmes:
Association of Chartered Certified Accountants (ACCA)
Certified Accounting Technician (CAT)
Institute of Chartered Accountants in England and Wales (ICAEW)
Certificate in Finance, Accounting and Business (CFAB)
Certified Internal Auditor (CIA)
Facilities at Sunway College
Our main campus comes complete with wireless access coverage (Wi-Fi) available 24-hour per day throughout the university building that covers classrooms, lecture halls, cafeteria, library, concourse and open areas that are conducive for student discussions, communications, eLearning and working on course assignments.
We also provide sports facilities such as our Olympic-sized swimming pool, tennis, badminton and basketball courts, full-sized field for soccer, rugby and cricket as well as clubs and societies ranging from cultural and international, leisure and recreational to religious interest groups.
We also value security and have, therefore set up a 24-hour Security and Auxiliary Police & Security personnel who are accorded full-fledged auxiliary police status.
Academic Facilities:
Lecture Theatres and Classrooms
Science Laboratories
Computer & Multimedia Production Laboratories
IT Facilities:
Computer Centres
Specialized Labs and Library IT facilities
Student access accounts and Wifi
Classroom technology
Learning/Training Facilities:
Art & Design Studios
Hospitality and Tourism Facilities
Language Laboratories
Performance & Media Facilities
Psychology and Nursing Laboratories
Sports Facilities:
Badminton Courts
Basketball Court
Jogging Track
Netball Court
Rugby Field
Soccer Field
Tennis Courts
Volleyball Court
Olympic-sized Swimming Pool
Table Tennis Table(Student Centre)
Tun Hussein Onn Library:
Multimedia Zone
Audiovisual Viewing Facilities
Wireless Access
Discussion Area
Returns Book Drop
Locker/Baggage Area
Training Room
Photocopy services
Other Facilities:
Student Lockers
Electronic Banking (ATM)
Accommodation Sunway College
Sunway College campus is strategically located in the modern and well-planned township of Bandar Sunway. The township has excellent infrastructure ranging from family-friendly attractions such as theme parks, shopping malls, cinemas and restaurants to amenities such as medical centres and banks. Sunway College offers various types of excellent on-campus accommodation, with priority given to outstation and international students. All hostel units are a mere 5-minute walk from everything you need at Sunway College.
Sunway Monash Residence
Sun-U Residence
Sun-U Apartment
Location Map of Sunway College
Contact Details of Sunway College
Sunway College (KL)
Operating/Mailing address:
No. 5, Jalan Universiti,
Bandar Sunway,
46150 Petaling Jaya,
Selangor.
Registered address:
No. 20, Jalan PJS 11/5,
Bandar Sunway,
46150 Petaling Jaya,
Selangor.
Tel: +6 03 5638 7176 / 7491 8622
Fax: +6 03 5638 7177 / 5635 8633
Email: info@sunway.edu.my