Jayahome Marble Trading – Marble & Granite for Home & Commercial – Polishing, Repairing and Renovation
Jayahome Marble Trading was established on 19 June 2010 and our showroom is located at Kluang, Johor. We supply all natural stone – marble and granite for home and commercial use. We also provide polishing, repairing and renovation services to fit customers requirements. Our product range not only cater for home use but we also supply to many local and overseas restaurants as well as cafes. Kindly refer to our website for more products information. Our products and services has gained good reputation over the years from regional and overseas market.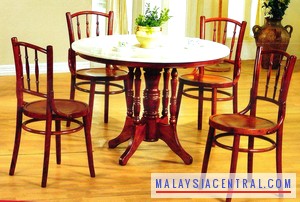 As the internet usage is gaining popularity, we have also started to showcase our products on our website since 2010, the purpose is to enable clients to view our product ranges anytime. Most importantly it helps to keep our costs lower and therefore, our product prices are very competitive as we do not have to maintain a high costing showroom. Most of our clients get to view our product ranges from the website and we are just a phone call or email away for them to place an order.
Business registration number
JM0572676-X
Products offered
Trading and supplying all marble and natural stone furnitures, dining tables, kopitiam table sets.
Services offered
Marble and natural stone furnitures, dining tables, kopitiam table sets polishing, repairing and serving.
Operation/Opening days and hours
24 hour online website (see below)
Business address
Jayahome Marble Trading, 2, Persiaran Idaman, Taman Idaman, 86000 Kluang, Johor, Malaysia.
Business phone number
+6(012)7102916
Business fax number
+6(07)7763862
Business/company GPS location address
2.027906,103.313799
Business email address
jayahome@jayahome.com.my
Business website
www.jayahome.com.my / www.jayahome.net