Certificate for Dental Surgery Assistant, MAHSA University College, Kuala Lumpur, Malaysia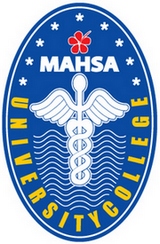 The Dental Surgery Assistant (DSA) is a valued member of the oral health team. The Dental Surgery Assistant takes on a significant responsibility and greatly increases the efficiency and the productivity of the dental surgeon in the delivery of quality oral health care.
Some of the tasks of a DSA include:
assisting the dental operator by pre-assessing the need for the procedure, holding and passing instruments
retracting tissues and suctioning to assist better vision of the operating field
retrieving, setting up and laying out dental equipment and dental instruments
mixing materials
sterilizing dental instruments and equipment
developing dental radiographs
charting for the dental operator
exposing radiographs
fabrication bleaching trays
in-office bleaching
applying sealants
MAHSA University College offers a certificate course that is to the standard and quality of the Malaysian Qualification Agency (MQA). The training is professionally supervised in clinics equipped with state of the art facilities, complete with up to date curriculum, modern equipments and a conducive study environment. The course will produce competent DSA's whom are competent in chair side assisting, patient management, with good clinical and communication skills.
This 2 year course is taught via Tutorials, Lectures, Seminars, Problem Based Learning (PBLs), Simulation clinics, Clinical visits to external clinics. The main objective of the course is to produce DSA's with the highest level of clinical assisting skills, possess current knowledge, act with professionalism, are effective communicators, are of good conduct, efficient, ethical and safe.
Program Structure
Year 1
Semester 1
Student Development
Basic Medical Sciences
Oral Health Services
The Law and Dental Practices
Health Promotion
Infection Control
Managing Clinical Requirements
Bahasa Kebangsaan A
Malaysian Studies / Pengajian Malaysia
Islamic Studies / Pengajian Islam
Moral Studies / Pendidikan Moral
Semester 2
Patient Care
Dental Care A
Dental Care B
Dental Care C
Dental Care D
Dental Care E
Hospital Dentistry
Year 2
Semester 1
Semester 2
Career Opportunities
Employment opportunities can be found in the public and private sectors, and includes:
Hospital
Private Oral Health Services
Government Health Services
Dental Schools / Colleges / Universities
MAHSA University College Location Map
MAHSA University College Contact Details
Address:
MAHSA University College,
Level 6, Block A, Pusat Bandar Damansara,
Damansara Heights,
50490 Kuala Lumpur,
Malaysia.
Phone: +6(03)2092 9999
Fax: +6(03)2093 1599
Email: marketing@mahsa.edu.my
Website: http://www.mahsa.edu.my