Diploma in Dental Technology, MAHSA University College, Kuala Lumpur, Malaysia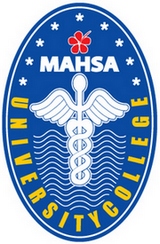 Dental Technology program is designed to provide students with a working knowledge of the art and science of fabricating corrective devices and replacements for natural teeth and tissues. The dental technologist is a craftsperson who is an essential member of the dental health-care team. The technologist, working to the prescription of a qualified practitioner, is responsible for the construction of dental appliances and devices used to improve the well-being of the patient. These applications and devices include crowns, bridges, dentures and orthodontic appliances used to correct damaged, lost or irregular teeth.
Throughout the program the students recreate the appearance of natural teeth in fixed restorations (such as crowns, bridges and implant restorations), using porcelains, metal alloys, all-ceramic materials, plastics and, with the aid of a computer, CAD/CAM technology. For removable restorations (complete and partial dentures) and corrective devices (orthodontic appliances), the dental technologist must understand physical and biological forces and the characteristics and handling properties of waxes, wires and acrylic materials.
Prospective students must have a high degree of technical ability and manual skills along with scientific knowledge and a degree of artistry. They should also possess good hand-eye co-ordination and colour perception, dexterity in using small instruments, patience in attending to minute details and an interest in learning about the underlying material sciences.
The program provides theoretical and technical training in designing and constructing dental restorative devices and tooth repositioning appliances. Throughout the 3 year program, students gain skills in communication, understanding and application of anatomy, dental asepsis, workplace relations, laboratory procedures and employment skills for a professional environment. Practical laboratory work is emphasized to prepare the student for employment.
Program Structure
Year 1
Semester 1
Student Development
Social and behavioural Sciences
Basic Medical Sciences
Oral Health Services
The Law and Dental Practice
Health Promotion
Infection Control
Managing Clinical Dental Technology Laboratory Requirements
Bahasa Kebangsaan A
Malaysian Studies / Pengajian Malaysia
Islamic Studies / Pengajian Islam
Moral Studies / Pendidikan Moral
Semester 2
Patient Care
Dental Technology A
Dental Technology B
Dental Technology C
Dental Technology D
Dental Technology E
Repair and Maintenance of Dental Equipment
Hospital Dentistry
Year 2
Semester 1
Clinical Dental Technology Laboratory Practice
Semester 2
Clinical Dental Technology Laboratory Practice
Year 3
Semester 1
Clinical Dental Technology Laboratory Practice
Semester 2
Clinical Dental Technology Laboratory Practice
Career Opportunities
Graduates of the program are in demand. The need for skilled dental technologists and technicians is expected to continue as more private dental care plans are provided across the country. Employment opportunities can be found in the public and private sectors, and include:
Commercial Laboratories
Dental Clinics
Nursing Homes
Hospitals
Private Oral Health Services
Government Controlled Health Services
Dental Schools/ Colleges/ Universities
MAHSA University College Location Map
MAHSA University College Contact Details
Address:
MAHSA University College,
Level 6, Block A, Pusat Bandar Damansara,
Damansara Heights,
50490 Kuala Lumpur,
Malaysia.
Phone: +6(03)2092 9999
Fax: +6(03)2093 1599
Email: marketing@mahsa.edu.my
Website: http://www.mahsa.edu.my