Diploma in Pharmacy, MAHSA University College, Kuala Lumpur, Malaysia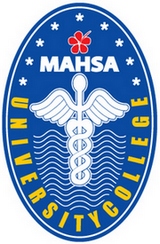 Pharmacists are the experts in drug discovery, development, preparation and usage of medicines. They are both professional scientists and qualified health care practitioners. Pharmacists work in hospitals, in the community and in the pharmaceutical industry. They promote the safe and effective use of medicines and ensure quality patient care.
Pharmacy is concerned with the design, evaluation, production and use of medicines. As such, it is based on the chemical, biological and medical sciences. Pharmacists are, therefore, acknowledged to be the experts in medicines. For example, they know how drugs interact with the body, their side-effects, how they interact with other drug substances, and how they should be formulated to have optimal therapeutic efficacy. They also serve patients and the community by providing information and advice on health, providing medications and associated services, and by referring patients to other sources of help and care, such as doctors, when necessary. Advances in the use of computers in pharmacy practice now allow pharmacists to spend more time educating patients and maintaining and monitoring patient records. As a result, patients have come to depend on the pharmacist as a health care and information resource of the highest calibre.
Pharmacists, in and out of the community pharmacy, are specialists in the science and clinical use of medications. They must be knowledgeable about the composition of drugs, their chemical and physical properties, and their manufacture and uses, as well as how products are tested for purity and strength. Additionally, a pharmacist needs to understand the activity of a drug and how it will work within the body.
Due to the rapid growth of the health care system, the increasing elderly population, and the burgeoning pharmaceutical and biotech industry, there is unprecedented demand for pharmacists today.
MAHSA University College Location Map
MAHSA University College Contact Details
Address:
MAHSA University College,
Level 6, Block A, Pusat Bandar Damansara,
Damansara Heights,
50490 Kuala Lumpur,
Malaysia.
Phone: +6(03)2092 9999
Fax: +6(03)2093 1599
Email: marketing@mahsa.edu.my
Website: http://www.mahsa.edu.my