Prince of Wales Island International School (POWIIS) in Penang, Malaysia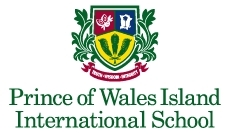 Prince of Wales Island International School (POWIIS) will be the first school in Malaysia to offer British-style boarding as well as thriving day education. With a projected roll of 800, POWIIS will be a school that puts academic endeavour at the top of its list of priorities and one where academic excellence is respected and recognised. We shall provide a curriculum based on British standards, leading to IGCSE and A level. With support and encouragement from a dedicated staff whose passion is to teach, we shall expect our pupils to do their best at all times and set their sights on the most prestigious universities after they leave school.
Prince of Wales Island International School (POWIIS), with an excellent fully air-conditioned campus, will be for boys and girls aged 11 to 18 (Years 7 to 13). Students will be day pupils, attending Monday to Friday; weekly boarders, going home at weekends; or full boarders, staying the whole time. There will also be flexi-boarding, allowing pupils to stay in school for an occasional few nights as necessary. This possibility is not only convenient for families but can provide a useful taster of boarding. The site includes well-designed boarding accommodation for nearly 400 pupils in mostly double rooms with some singles.
With decades of experience behind them, the senior staff believe that the boarding experience is a valuable one and that the boarding ethos enhances the experience for day pupils too.
One of POWIIS's greatest assets will always be its people. From the management and specialist personnel of our experienced parent company to the academic team and support staff, all of those involved in the Prince of Wales Island International School will be dedicated to the aim of providing the highest quality of education in every sense. This will be under the strategic direction of the governing body, whose members will bring with them additional elements of wisdom, experience and expertise. However excellent our facilities, it is the people that will make the difference. Come and meet us and ask us any questions that this prospectus has left unanswered.
Situated in the growing garden township of Botanica.CT, away from much of the hustle and bustle of everyday life, the Prince of Wales Island International School will welcome its first pupils in September 2011. Within its green and serene environs, and founded on the characteristics and ethos of top British boarding schools, the Prince of Wales Island International School will not merely copy such schools, but use its unique location and the richness of local and international experience to create something more special. As a school and community, POWIIS will offer a complete education with a global outlook.
Built to modern specifications, the Prince of Wales Island International School has been designed to offer the best facilities in all areas including science, art, design technology and sport, as well as offering an outstanding venue and opportunities in music and the performing arts within the spacious 500-seater auditorium. Both staff and students will use the comprehensive range of IT facilities on offer.
Prince of Wales Island International School (POWIIS) offers a range of SCHOLARSHIPS to recognise academic excellence, and achievement in other areas such as music and sport. With intakes in both September and January, we also offer scholarships to those who have achieved high grades in their SPM examinations.
Support throughout a student's time at POWIIS will come from a committed pastoral system of one-to-one tutoring, supporting academic and personal development and shaping decisions which lead ultimately to applications to top universities in the UK, USA, Australia and worldwide. Initial learning support will be available in English language and for children from different school backgrounds.
Curriculum of Prince of Wales Island International School (POWIIS)
The principles of our curriculum are that:
Academic work and intellectual activities are fundamental to all that goes on in the School.
Syllabuses do not define the limits of what is to be learnt.
All classroom and other activities are valuable and interlinked, and contribute to the general development and success of the pupil.
Examination results are vital for the next stage, but a good education brings much wider achievement as well as top grades.
Self-motivation, independent thinking and taking on responsibility are essential elements of a student's development and will receive greater emphasis as a child progresses.
Students should feel appropriately challenged in all that they do, but at the same time they should always feel supported.
The curriculum should be balanced and broad for the most part, and all curriculum subjects should be equally valued, so that children can experience a wide range of subjects before they make their choices.
Where practical, subject choices should maintain the option of a variety of potential career paths for as long as possible.
Ministry of Education Malaysia regulations will be followed.
The Junior Curriculum (Year 7 to Year 11)
In keeping with our principles POWIIS will use the best from established curricula in independent schools in the UK to build a curriculum suited to our pupils. Central to our aims will be a structure based on a solid core of compulsory subjects (including mathematics, the three sciences and English) complemented by a wide range of other subjects and activities. In preparation for the start of their IGCSE courses and Year 10, pupils will be guided to make the first of their important choices as they narrow down the number of subjects they study. By selecting from carefully designed groups of option subjects, pupils can maintain academic breadth whilst beginning to shape the direction of their own education.
The Sixth Form Curriculum (Years 12 and 13)
A levels provide more flexibility than any other curriculum in the world. Students can choose to specialise in a narrow field of study, a possibility that is unique to A levels, or they can choose to put together subject combinations that match the breadth of other systems. The A level route, usually in three or four subjects, is that taken by the large majority of entrants to UK universities and is accepted by universities across the world including those in the US, Australia and Europe.
True scholarship goes beyond the boundary of the syllabus and is measured by much more than subject grades. Sixth Formers will be encouraged to pursue their academic interests both in and beyond the classroom through independent study, through reading and research and through the sharing of their endeavours with others. Involvement and exploration in a subject, with proper scope for creativity and reflection, result not only in much more secure understanding and knowledge, but also bring the highest exam grades and prepare students for their lives at university. Such an approach is also much more enjoyable and fulfilling.
Buildings and Facilities of Prince of Wales Island International School (POWIIS)
Our 7.5 acre site looks out over the lush hills of rural Penang, and is itself an open and green environment with more than 40% open space. With a full-sized football pitch, tennis and netball courts, a six lane twenty-five metre swimming pool and landscaped grounds, the School's outdoor environment is an invitation to exercise, compete and relax.
The classrooms are spacious and well-equipped. With nine specialised science laboratories, a language laboratory, a lecture theatre, dedicated art studios, a design and technology centre with full workshop facilities, and a generous and contemporary provision of IT, much thought has gone into the design of the specialist teaching areas. For example, all science lessons will take place in the laboratories, each designed with two areas, one for learning under instruction from the teacher, the other for practical work. A multipurpose hall not only provides an arena for indoor sports, assemblies and exhibitions, but also a second venue for concerts and events. Music and Drama areas include a variety of large and small spaces suitable for practice, rehearsals and performances as well as class teaching.
Our primary space for concerts will be a superb 500-seater natural acoustic auditorium, one of the finest venues of its kind on the Island and in Malaysia. The auditorium will be tuned for music, but with the use of modern technology it will also be possible to configure the acoustics and stage to transform the space into a professional standard theatre.
The modern library will be a full resource centre, supporting all aspects of learning and research through books and IT; it will include areas for both formal and more informal reading. The ambiance in the spacious cafeteria will encourage people to linger over their meals, engaging in civilised conversation.
The halls of residence will house 370 pupils, mostly in twinbedded rooms with some singles. Designed to include social and recreational areas as well as accommodation for resident staff, our boarding pupils will be well catered for.
Sports and Activities at Prince of Wales Island International School (POWIIS)
At Prince of Wales Island International School (POWIIS) we recognise the importance of a pupil's experiences outside the classroom, and how these experiences are integral to their education and self-esteem. To support our beliefs we shall provide a structured approach to extra-curricular involvement and create an expectation amongst our students that participation and achievement in sports and activities are part of their daily lives at school.
Sport and Physical Recreation:
Aerobics
Athletics
Badminton
Basketball
Dance
Fencing
Football
Golf
Martial Arts
Netball
Scuba diving
Shooting
Swimming
Table Tennis
Tennis
Water Polo
Activities:
Book Clubs
Chess
Community and Charity
Computing
Cooking
Creative writing
Current affairs, politics
Drama
International Awareness
Lectures, trips, exchanges
Music
Online radio
Photography
Public Speaking
School newspaper
Work experience
Transport to Prince of Wales Island International School (POWIIS), Penang
School Bus Routes
Prince of Wales Island International School (POWIIS) will be arranging daily school buses from convenient locations to Balik Pulau. In order to plan the routes, staff took part in 'dry runs' at the busiest times of the week to test traffic conditions and to measure exactly how long it takes.
Even on Monday morning and Friday afternoon, the results were very encouraging, giving times well within those considered normal for most schools.
Times to/from POWIIS:
Tanjung Bungah (Copthorne Hotel) – 50 minutes
Sunrise Roundabout – 45 minutes
Polo Ground – 40 minutes
Bukit Jambul/Equatorial Hotel – 30 minutes
The minibus/van journey times were generally 5 minutes shorter than those for the buses.
The final choice of routes will depend on where our pupils live. We are obviously concerned about the safety of our pupils and so we shall use new vehicles, like those in the photographs, all fitted with safety belts, although we shall probably not choose the lavender rouched curtains!
Location Map of Prince of Wales Island International School, Penang
Prince of Wales Island International School (POWIIS) is located within the new garden township of Botanica CT in Balik Pulau, Pulau Pinang.
Approaching from Butterworth, Queensbay, Bayan Lepas, and Penang International Airport, join Jalan Paya Terubong (P11) from the south and then turn left onto Jalan Tun Sardon (P14) signposted Balik Pulau. If travelling via Air Itam join Jalan Paya Terubong from the north and turn right onto Jalan Tun Sardon(P14).
Travel for 8.5 km, entering Balik Pulau. Continue to T junction, and turn left onto Jalan Balik Pulau. After 170 m, take second exit at roundabout (signposted Batu Ferringhi/Teluk Bahang) and join Jalan Sungai Pinang (6). Road bears right after 2.7 km, and becomes Jalan Sungai Rusa. After 600 m turn right at Jalan Sungai Air Putih. Take the first right and approach retail units, within which the Botanica.CT Sales Office is located.
Visitors from Batu Ferringhi may also travel via Teluk Bahang. From the direction of Batu Ferringhi follow the Jalan Teluk Bahang, approach roundabout and take first exit, continuing on Jalan Teluk Bahang. After 13 km road then becomes Jalan Sungai Rusa. After a further 3.3 km turn left onto Jalan Sungai Air Putih. Take the first right and approach retail units, within which the Botanica.CT Sales Office is located.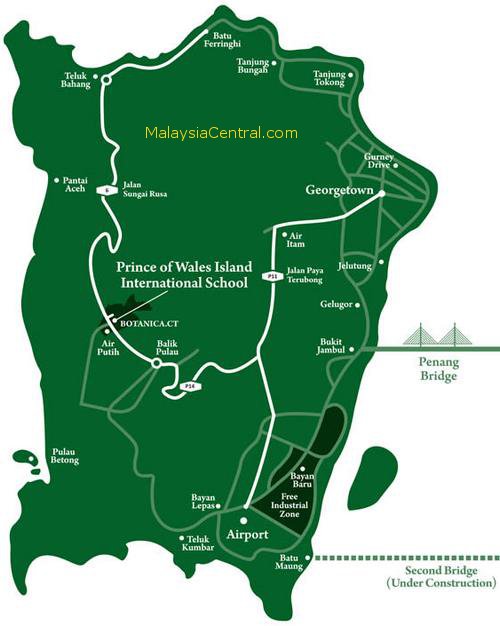 Contact Details of Prince of Wales Island International School (POWIIS), Penang
Prince of Wales Island International School (POWIIS)
8 – 10 Jalan Sungai Air Putih,
Bandar Baru Air Putih,
11000 Balik Pulau,
Penang, Malaysia.
Tel: +604 8662399
Fax: +604 8665388
Email : admissions@powiis.edu.my
Website: http://powiis.edu.my
Georgetown Office:
Suite 7A, 7th Floor,
Wisma MTT,
26 Weld Quay,
10300 Penang, Malaysia
Tel: +604 258 9812
Fax: +604 263 8308