UCSI University Sarawak Campus in Kuching, Sarawak, Malaysia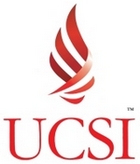 UCSI University began as the Canada Institute of Computer Studies, a computer-based training centre located in SS2, Petaling Jaya, that was subsequently named Sedaya College when it was accorded College status in 1989. In 2001, it evolved into Sedaya International College, to reflect its increasing international focus. Accorded University College status in 2003, it soon became UCSI University when it received University status in 2008.
Situated in Kuching, the Sarawak Campus offers top-notch facilities, expert teaching staff, and a dynamic and stimulating environment in which to study hospitality, tourism, events management, retailing, industrial relations and international business via our strong tradition of academic excellence. Our aim is to nurture and inspire talents to help students realise their full career potentials.
An exciting and culturally-diverse state, Sarawak which is located in Borneo, the third largest island in the world, is the ideal platform for an aspiring student to obtain an international career in the hospitality and tourism industry worldwide. Renowned for its award-winning international tourism events and destinations, it is a conducive environment for students to gain vital experience in the field of hospitality and tourism management, where as home to the precious rainforest, sees the occurrence of famous world events or international events like the Rainforest World Music that is held annually, the Sarawak Rainforest Interhash, and the Gawai Harvest Celebrations, etc.
Strongly linked with the industry's best such as Four Points by Sheraton of Starwood Hotels and Resort Worldwide, the Borneo Convention Centre Kuching, the Sarawak Tourism Board, and many more, the Sarawak Campus ensures that courses run are highly relevant to today's demands in the hospitality industry to allow for the development of skills that would guarantee our graduates worldwide employment.
Also housed at the Sarawak Campus is the University's Centre of Excellence in Hospitality and Tourism. Currently, the University is leading the Entry Point Project 10 (EPP 10), a government initiative to annually produce 50,000 educated and highly-skilled workers for the Malaysian hospitality and tourism industry under the "Education" National Key Economic Area (NKEA). EPP 10 is one of 132 projects that the Malaysian government has endorsed to radically develop the nation by 2020.
UCSI University Sarawak Campus Facilities
UCSI University Sarawak Campus has well-equipped laboratories and student support services. The university makes constant investments to upgrade its facilities for holistic educational development.
At UCSI University Sarawak Campus, students have access to many facilities and resources on and off campus. Dedicated staff members ensure that the psychological and emotional welfare of students are also taken care of with the provision of counselling services and extra-curricular activities.
Accommodation
Auditorium
Board Room
Computer Laboratories
Hospitality Training
Library and Resource Centre
Science Laboratories
Student Lounge
UCSI University Sarawak Campus Academic Programmes/Courses
List of Foundation/Pre-U Programmes
Foundation in Science (Applied sciences/Medical Sciences/Engineering and Architecture)
Foundation in Arts (Business and information technology/Social Sciences/Hospitality and Tourism Management)
Cambridge GCE A-levels (Science Stream)
List of Diploma Programmes
Diploma in Hotel Management
Diploma in Culinary Arts
Diploma in Leisure & Recreation Management
List of Undergraduate Degree Programmes
B.A. (Hons.) in Hospitality Management
B.A. (Hons.) in Event & Tourism Management
B.A. (Hons.) in Commerce
Location Map of UCSI University Sarawak Campus
Contact Details of UCSI University Sarawak Campus
UCSI University Sarawak Campus
Lot 2498, Block 16
Kuching Central Land District
Jalan Tun Jugah
93350 Kuching
Sarawak, MALAYSIA
Tel:+6082-455255
Fax:+6082-455015