BSc. (Hons) in Nursing Practice Development (Top Up Degree), MAHSA University College, Kuala Lumpur, Malaysia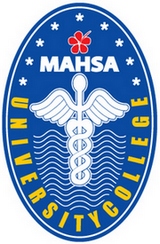 Successful completion of this program leads to the award of Bachelor of Science (Honours) in Nursing Practice Development, or, for other health care professionals, Bachelor of Science (Honours) in Health Practice Development. Practice development is an exciting way of implementing change in nursing and health care, and has an established recent history of success in the UK and Australia. This degree program aims to prepare professionals to take their part in the systematic process of change to improve the care for our patients. All this is considered in a local context. Clinical nurses, managers and educators are all welcomed to this program.
Malaysia has many nurses who are effective, competent and fully mature professionals giving dedicated service throughout the country. However, they now wish to upgrade their academic qualifications. Whilst still working in their post, they can enjoy the best of on-line and face to face educational methods in the MAHSA University College and University of Northumbria, UK, top up degree program. This is a two year program for nurses and other health care professionals (such as medical assistant officers) who attend for four study blocks of two weeks each at MAHSA University College. During these study blocks, local and Northumbria University lecturers provide a taught face to face module in various topics.
Between the study blocks, the student still has face to face contact with the mentor, who is able to visit the students in their workplace in order to facilitate their thoughts and perceptions about change in practice.
Having benefited from face to face teaching and mentoring, the student can enjoy the latest in on-line learning with e-mail contact with named supervisors of their assignments, both local and from the University of Northumbria. Not only that, the student enjoys the full resources of the University of Northumbria electronic learning system and library and resource centre. So although the UK link university is some distance away, the student can still feel the benefits of the resources.
Those who have been successful on this course have shown their ability to respond to and plan for self directed learning in order to prepare and submit their assignments. Face to face teaching and support are also a key part of this program. All this leads to an award which has international recognition enabling successful participants to enhance their career pathway.
BSc. (Hons) in Nursing Practice Development Program Structure
Program covers these topics:
The practice arena as a learning environment – methods of learning in clinical practice and assessment of learning. How we are able to connect theory and practice for the benefit of patient care.
Facilitating learning and assessment in practice – methods of teaching and learning as well as assessment of clinical competency.
Professional boundaries in context – this is an exciting area of development, where professionals are beginning to break down the boundaries that separate them and work collaboratively for the improvement of treatment and care for the patients.
Contemporary issues in professional practice – the latest trends affecting the health care professionals in Malaysia.
Practical application of evidence based practice – the use of the latest available research which can be applied to improve clinical practice when combined with clinical expertise and the wishes and expectations of the patients – all in a local context.
Leadership in professional practice – the process of change, the development of transformational leadership to improve patient care.
Analyzing knowledge for practice – the process of studying a topic from clinical practice in-depth and initiating change in practice for the benefit of patient care.
The student is expected to use self learning techniques to study these topics in depth following the face to face sessions at College. They then submit their assignments according to the schedule, which gives generous amounts of time to prepare and study.
Career Opportunities
For Nursing Practice Development, Top-Up degree in nursing, the theme of the degree is nursing practice development. This means that the degree is geared up to educate the graduate in how to implement and facilitate change in the area of work, be it clinical, management or education. This involves the chance to upgrade the salary scale to C41 and above.
MAHSA University College Location Map
MAHSA University College Contact Details
Address:
MAHSA University College,
Level 6, Block A, Pusat Bandar Damansara,
Damansara Heights,
50490 Kuala Lumpur,
Malaysia.
Phone: +6(03)2092 9999
Fax: +6(03)2093 1599
Email: marketing@mahsa.edu.my
Website: http://www.mahsa.edu.my