Ipoh International School (IIS) in Ipoh, Perak, Malaysia

Tenby Schools was established in Ipoh in 1960 to cater to the needs of children of expatriate planters, miners and soldiers. The school started as an expatriate kindergarten that became an international school, Ipoh International School (IIS), which later expanded to include a private Malaysian school, Sekolah Tenby.
Originally named Tenby School after the Welsh town from which one of the planters came, it was later renamed Ipoh International School. The fine tradition on which Tenby School was built, such as the emphasis on parental involvement, the focus on the development of the whole person, and the community spirit, remains until this day. IIS is today an independent Cambridge International Examination Centre with an enrolment of 900 pupils from more than 30 countries, from kindergarten through to IGCSE level.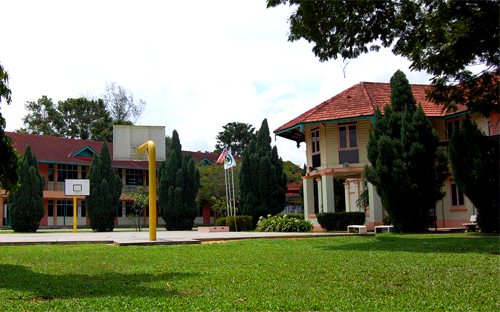 This growth is largely built on the school's uncompromised commitment to bring out the best in every student. Through solid guiding principles such as the emphasis on personal attention, maintaining a high standard of English and quality teaching, IIS is able to offer an outstanding teaching and learning environment that focuses on bringing every child?s strengths and abilities to his or her full potential.
Ipoh International School (IIS), the pioneering school of the Tenby Schools group has received a three-year full accreditation by the Western Association of Schools and Colleges (WASC), a testimony of the quality of education it offers. It now joins the ranks of being one of only five schools in Malaysia with such status.
Courses Available at Ipoh International School (IIS)
Tenby Kindergarten (Pre-school programme)
Cambridge International Primary Programme
Cambridge IGCSE
Cambridge A-levels
Courses And Curriculum at Ipoh International School (IIS)
The school runs two parallel streams: the British-based IGCSE stream for International students; and the Malaysian stream that offers the primary (KBSR) and secondary (KBSM) curricula, at Sekolah Kebangsaan Tenby, which is part of IIS.
IIS recently introduced the innovative Cambridge Primary Programme aimed at pupils from pre-school to Year 9. In line with the British National Curriculum, core subjects in English, Mathematics, Science, Information Technology, Geography, History and Art are taught. In Key Stage 4, pupils may choose from subject options based on Pure Science, Arts or Business Studies. At the end of Year 11, pupils sit for the IGCSE.
An excellent pre-school programme is offered to Malaysian and International children ages 3+ to 6 years at Tenby Kindergarten. This British-styled nursery is located in its own little house within the same spacious school grounds, complete with playground. Watch your toddler grow in confidence and self-expression in the secure, encouraging and nurturing environment at Tenby Kindergarten!
Facilities and Student Life at Ipoh International School (IIS)
Facilities and resources are state-of-the-art, including a purpose-built computer lab, fully-equipped science labs, a well-stocked library, playing field, basketball court, children?s computer learning room, and planned living skills studio, art studio and music room.
Student life at IIS is a happy experience, as evidenced by the happy, positive environment at school. Classes are deliberately kept small, so every student has an identity and is known by name and personal attention is maximised.
While English is the abiding language, Bahasa Malaysia is taught and Chinese is available as an option. Beyond the classroom, every student is encouraged to be actively involved in extra-curricular events and activities.
There is an extensive list to choose from, from sports to the performing arts to community involvement through clubs and societies, as well as myriad options in collaboration with Meru Valley Resort.
The World In One School Indeed the unique opportunity for students from all over the world to interact with one another provides a truly enriching multi-cultural experience at IIS. If you are looking for an International School that offers excellent value for money, in safe beautiful surroundings that emphasises not just academics but also learning beyond the classroom, your search may end here. We look forward to welcoming you into our world.
School Timing
Kindergarten
8:30 am – 12:30 pm: Monday to Thursday
8:30 am – 12:00 pm: Friday
Year 1, Year 2 and KBSR 1
8:00 am – 1:20 pm: Monday to Thursday
8:00 am – 12:20 pm: Friday
Junior International / SR Tenby
8:00 am – 3:10 pm: Monday to Wednesday
8:00 am – 2:20 pm: Thursday
8:00 am – 12:45 pm: Friday
Senior International / SM Tenby
8:00 am – 3:30 pm: Monday to Wednesday
8:00 am – 2:15 pm: Thursday
8:00 am – 12:45 pm: Friday
Location Map of Ipoh International School (IIS)
Ipoh International School (IIS) Contact Details
Ipoh International School
No. 28, Jalan Kelab Golf
30350 Ipoh
Perak, Malaysia.
Tel: +6(05)253 8530
Fax: +6(05)242 9261
Email: tenby@ipohinternational.edu.my