Tunku Putra School (TPS) in Kuching, Sarawak, Malaysia
Tunku Putra School is a private international school in the city of Kuching, Malaysia. Established in 1997, Tunku Putra School caters for children from the ages of 3+ to 17 years, enrolled in Kindergarten, National-stream or International-stream classes. The School is named after the Father of Malaysia, the late Tunku Abdul Rahman Putra Al-Haj.
Tunku Putra School strives to create a conducive environment for learning and development by allowing its teachers to give more individual attention to each child. Class sizes are deliberately kept small, making it possible for every child to be known by name and to experience a sense of belonging.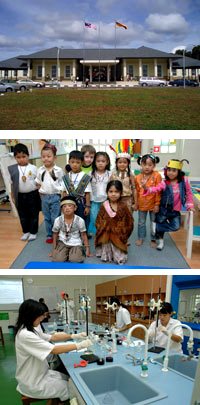 Learning at Tunku Putra School is seen as a journey with its Principal, sub-heads and home group/class teachers playing key-roles in ensuring that students reach their full potential. Tunku Putra School's curriculum is designed to foster a spirit of inquiry in order to support students in their search for knowledge, meaning, understanding, with the development of life-long skills.
Tunku Putra School takes a more holistic approach and encourages students to excel in extra-curricular activities such as drama, sports and good citizenship.
In addition to a full curriculum, Tunku Putra School offers computing, music, languages, and art tutorials on the premises.
Tunku Putra is a member of the Cahya Mata Sarawak (CMS) Group of Companies, a conglomerate with interests in financial services and infrastructure-development. Its holding company, Cahya Mata Sarawak Berhad, is listed on the Main Board of Bursa Malaysia, the Malaysian stock-exchange.
Tunku Putra School's Petra Jaya Campus
The purpose-built, multi-million Ringgit campus has a capacity for 700 students and is located on 22-acres of land. The new campus features clusters of 22 single-storey classrooms, 'designed for children', and aimed at promoting interaction with an emphasis on child safety.
Learning will be enhanced with new facilities at the new campus. Six specialised learning science labs, computer and music rooms, as well as home science & living skills room are equipped with state-of-the-art facilities. Playing fields, a multi-purpose hall, and sports facilities will add to the students' overall learning experience.
Tunku Putra School Kindergarten
Kindergarten embraces a 3-year child development programme, with carefully designed and researched stages to prepare the child for Primary school.
The first year learning is primarily through play and interaction with teachers, resources and other children. Second year learning focuses on phonic recognition, writing skills and basic numeracy.
Third year builds on extending the child's learning in the above skills as well as projects to introduce Science. The languages of Mandarin and Bahasa Melayu are introduced early in the first year level, with greater emphasis placed on Bahasa Melayu for Third-year students who will proceed into the National – stream curriculum later.
Tunku Putra School International Primary Curriculum
In the Primary years, Tunku Putra School aims to equip students with problem-solving and research skills in addition to basic numeracy and literacy skills. Creativity is encouraged across the curriculum from both teachers and children. To achieve this, the school use a variety of resources from Australia and Britain and draw on the local environment as a resource for geography and history projects. By exposing students to a variety of co-curricular activities within the school day, Tunku Putra School also hope to produce versatile and open-minded students who will take a love of learning with them as they move on through their Secondary education.
Tunku Putra School International Secondary Curriculum
The progressive and diversified secondary curriculum provides a variety of learning opportunities for Tunku Putra students. Based on Australian and United Kingdom education standards, the curriculum ensures students are able to transfer seamlessly to schools in other parts of the world.
The Junior Secondary (YR7/8) students are involved in a "bridging" programme designed to allow each student to develop his or her initiative and study skills and to encourage greater confidence and independence in their learning. Each student undertakes a set of core subjects designed to create and instill a set of skills which will provide the foundation for Secondary education.
The programme for students in the Middle School (YR9/10) is based on the International General Certificate of Secondary Education (I.G.C.S.E), one of the most recognized qualifications around the world. I.G.C.S.E courses are renowned for developing vital education skills including recall of knowledge, oral skills, problem solving, initiative, teamwork and investigative skills.
The resulting qualification in I.G.C.S.E. provides a foundation to pursue higher education courses around the world such as the "A", "AS" levels (UK), and the International Baccalaureate.
Students will also complete the Cambridge I.C.T. (Computer) course which is integrated throughout the Secondary school.
Tunku Putra School National Curriculum
Tunku Putra School places a major emphasis on creating an enriching and extensive programme for the National Curriculum which is mainly taught in Bahasa Melayu.
In line with recent changes to policy by the Ministry of Education, Malaysia, the medium of English is currently used in teaching Science and Mathematics subjects for Primary 1 – 3. Key specialist teachers support the introduction and evaluation of teaching methodology in these subjects and where possible native English speaking teachers handle these classes.
Learning, reading, listening, speaking and writing of English as a language is taught with an integration of the two syllabuses/ streams – National and International.
Tunku Putra School also offers the national secondary curriculum or Kurikulum Bersepadu Sekolah Menengah (KBSM) for Tingkatan 1 (as at January 2006). This was extended to Tingkatan 2 in 2007.
Tunku Putra School Extra Curriculum Activities
Sport and Physical Education are also high priorities at the School. Children are taught basic skills in a range of sports and are encouraged to participate in the school sports programme. Emphasis is placed on personal improvement as well as development of team skills.
Extra-curricular activities for Primary-level
Chess, Computer Club, Cooking, Art and Craft, Cubs, Needlework, Recycling, Choir, Aerobics, Taekwondo, Guitar, Piano, Recorder Ensemble, Board Games, Swimming, Soccer, Dance.
Extra-curricular activities for Secondary-level
Swimming, Badminton, Soccer, Basketball, Chess, Drama.
Note: Except for swimming, Taekwondo upgrading, soccer training, Cub Scout and badminton, all activities are conducted in the afternoons during class-time. Swimming lessons are in the morning. Taekwondo upgrading, soccer training, Scout and Badminton take place after school, i.e. at 4 p.m.
Tunku Putra School Facilities
The present campus is equipped with:
Air conditioned classrooms
Library
IT laboratory with Internet facilities
Stand-alone computer in each classroom
Cafeteria
Half-size practice basketball courts
School soccer field
Specialist Rooms for Art, Music, Drama and Languages
24 hour security
Student lockers (Secondary)
Communal areas or "interactive pockets" at each building juncture for child development
School Hours of Tunku Putra School
Tunku Putra School is a day-school. School hours are from 8:00 a.m. to 4:00 p.m.
As an added convenience for parents, TPS offers after-school care provided until 4.45 p.m.
Location Map of Tunku Putra School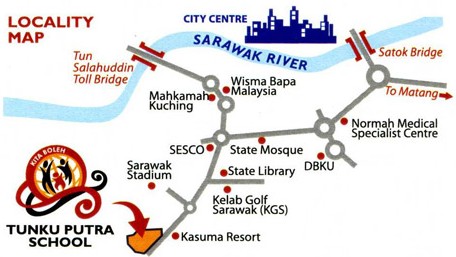 Tunku Putra School Contact Details
Tunku Putra School
Jalan Stadium,
Petra Jaya,
93050 Kuching,
Sarawak, Malaysia.
Tel: +6(082)313 900
Fax: +6(082)313 970
Email: info@tps.edu.my